VCA Canada Animal Hospitals partners with the Ontario Veterinary College and contributes $1M to study the future of sustainable and accessible models of veterinary healthcare.
VCA Canada Animal Hospitals is excited to announce the VCA Canada Chair in Relationship-Centred Veterinary Medicine at the Ontario Veterinary College (OVC). This critically important venture will support research that informs more sustainable approaches to the delivery of companion animal healthcare. By focusing on relationships between the profession, veterinary care providers and clients, we hope to achieve stronger teams, better health outcomes and wider access to veterinary care.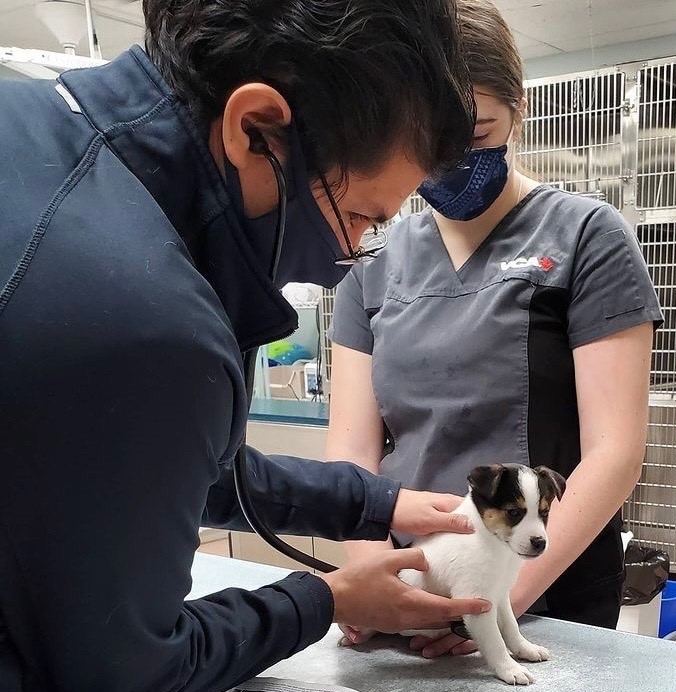 "This partnership is the culmination of a growing relationship between two industry leaders that share a passion for securing a more sustainable future for the veterinary industry in Canada," says Daryl Verbeek, President of VCA Canada. "Our contribution, with the support of Mars Veterinary Health will be critical in helping us find solutions to the challenges facing our profession, now and in the coming years," notes Verbeek.
OVC, as part of the University of Guelph, was founded in 1862 and has fostered the development of thousands of veterinarians in Canada and around the world. Many OVC graduates have gone on to become members of the VCA Canada family.
"With this chair and this remarkable leadership gift from VCA Canada, we have an opportunity to make a real difference for veterinary teams – and the clients and pets they serve – by providing evidenced-based solutions to their most urgent challenges," says OVC dean Jeff Wichtel.
The Chair in Relationship-Centred Veterinary Medicine will focus on research relating to historical and ongoing challenges within veterinary environments.
The mental, physical, and financial health of veterinary healthcare teams.

Veterinary medicine, though rewarding, is an incredibly demanding profession. Supporting the wellbeing of veterinary healthcare providers today is essential to ensuring Canadian pet parents have access to veterinary care long into the future.
The role of relationships, within teams and across the broader healthcare ecosystem.

Strong relationships improve the coordination and the delivery of care by individuals working in complex and demanding environments. Nurturing and developing strong relationships will help support the effectiveness and health of the veterinary healthcare team and lead to improved medical outcomes for patients.
The sustainability of the profession and those working in it.

Building a healthy industry requires a multi-factorial approach that considers personal, environmental, societal, and economic factors.
Understanding the long-term impact of digital communication tools in veterinary healthcare.

With technology evolving at a rapid pace, it is important that we identify and explore both the potential benefits and consequences that may come with new products.
Ensuring access to veterinary care for all Canadians regardless of social or economic status.

Pets play an essential role in the health and wellbeing of their families. We envision a future where all pets can receive equitable veterinary healthcare.
"I've always believed in the power of relationships to propel positive change," says Dr. Craig Mosley, National Medical Director, Specialty Medicine, for VCA Canada, and an OVC graduate.
"Connectivity and trust are essential for coordinated, responsive and compassionate veterinary care. This new Chair, led by Dr. Coe, gives us the unparalleled opportunity to study the relationships in our profession, and develop responsive, real-world solutions to the challenges we are facing."
Skilled team shortages, increased demand for care, compassion fatigue and specialization and stratification, are some of the challenges at the forefront of our industry, Dr. Mosley notes.
"One of the issues I've been passionate about throughout my career is the importance of the human-animal bond – the relationship at the core of our profession."
"I truly believe that the critically important work done through this Chair will fuel the reach and sustainability of the care we provide, so that Canadians, regardless of social or economic status, will be able to share in the wonder of the human-animal bond, and all of the benefits it brings."
Creating a healthy and vibrant professional landscape will ensure a better world for pets, their families and veterinary care providers. VCA Canada is excited to collaborate with the OVC as we work together to shape the future of our profession.
For further information, please contact Craig Mosley DVM, MSC, DACVAA @ [email protected]