L'Hôpital Vétérinaire des Laurentides joins the VCA Canada family as of July 1, 2022.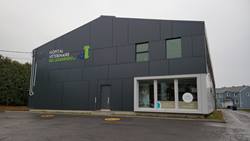 The L'Hôpital Vétérinaire des Laurentides was founded in 1988 by Dr. Denis Julien and, at that time, occupied only a quarter of a two-storey building. The hospital experienced constant growth for many years and quickly occupied the entire building. In January 2011, the hospital was acquired by Dres Fanny Gionet and Guylaine Rouleau, who were committed to modernizing the facilities and record keeping. However, it soon became apparent that space was running out and that a larger facility was required. After a long year of planning and renovations, the hospital finally got a larger space and moved in June 2018 to 20280 Henri-Bourassa. In this new, much more spacious and functional facility, the team of this hospital continues to thrive and grow.

Please join us in welcoming the entire L'Hôpital Vétérinaire des Laurentides team to the VCA Canada family!