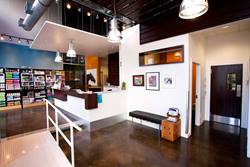 Yaletown Pet Hospital opened in the original Smithe Street location in 2003 by Dr. Rob Spooner. The rapid growth of the neighbourhood made it necessary to expand, so they moved in 2010 into their new, much larger location, just around the corner at 893 Expo Boulevard. In 2018, Dr. Spooner passed the reins to 3 of his longtime associates, Dr. Roxanne Vandermeer, Dr. Gavin Myers and Dr. Karley Little. With the support from Dr. Spooner and the rest of the incredibly dedicated and hardworking team, Yaletown Pet Hospital continued to grow and thrive in the community and are gearing up for an expansion project, which would effectively double the space available to care for pets and expand their client offerings.
From its origins as Vancouver's warehouse district, Yaletown has been transformed into an exciting and vibrant neighbourhood full of interesting shops, amazing restaurants and a diverse community. The human population has brought along with it a huge number of animal companions, including a highly visible pack of dogs and an equally large but less visible clutter of cats.
At Yaletown Pet Hospital, they provide top-quality veterinary services to the area's greatest companions. They are a full-service veterinary hospital and the largest in the downtown core of Vancouver. They offer a wide variety of medical and surgical services and products to enhance the health of your furry family members. For your convenience, they are open seven days a week, including most statutory holidays. Their team values inclusivity, honest communication, empathy and respect. They vow to treat each pet as if they were one of their own and to create a positive environment at each visit. Their passionate staff are all lifelong learners and have a genuine curiosity and drive to ensure they remain at the forefront of the field and keep patient wellbeing and comfort, client experience and education, and staff happiness and development top of mind. They embrace the latest technology to enable them to communicate better with their clients. They also provide wellness plans to promote preventative medicine and educate on their payment options and insurance plans to help their pet parents prepare for the unexpected.
Please join us in welcoming the entire Yaletown Pet Hospital team to the VCA Canada Family!
Yaletown Pet Hospital
893 Expo Blvd
Vancouver, BC
V6B 1C4
Phone: 604-682-7389
yaletownpethospital.com