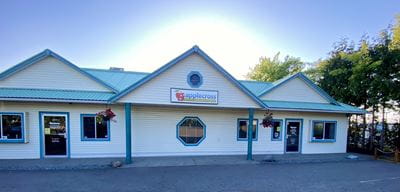 Located in beautiful Nanaimo, British Columbia, Applecross Veterinary Hospital, led by Julie Lamb, has been transformed from a low-cost, small practice in 2012, to a full-service, growing practice which provides preventative care, diagnostics, rehabilitation, laser therapy, surgery and end of life care. The hospital boasts a staff of 3 Veterinarians, 2 Technicians, 4 Assistants, and 5 Client Care Specialists.

Their compassionate and dedicated leader, Julie, has a diversified educational background and has worked in a number of professional spaces, making her an exceptionally knowledgeable asset. Her undergraduate work included paleobiology, forensic paleontology, and pre-vet courses. She graduated from WCVM in 2003, following her passion to Los Angeles, where she completed her internship with the Animal Surgical Emergency Center (ASEC). She then made her way to Winnipeg, where she headed a small animal practice until the call of the ocean and the mountains led her back to the island and the purchase of Applecross in 2012.

Please join us in welcoming the entire Applecross Veterinary Hospital team to the VCA family!
Applecross Veterinary Hospital
6451 Applecross Road
Nanaimo, BC
V9V1N1
250-390-2391
Website